Has anyone had any experience with cleaning low-e glass on residential homes? Any tips, tricks or warnings on technique?
Most passive low e coatings are applied to the interior pane on surface 3 of the double glazed unit. If you consider surface 1 to the outside, surface 2 and 3 face each other inside the window, and surface 4 facing the inside of the house. Older style sometime had them on surface 4. If it is solar control low e coating it is most likely on surface 1 in which case treat it like a tint film. These coatings are extremely thin and if you use an abrasive you could damage it. There really isn't a way to tell if it was applied via msvd or hard coat techniques.
Also it has a really hard drag to it so use lots of slip. I have yet to run across it on surface 1 or 4 Mostly on paella windows when you take the storm apart.
Thank you Ryan-BCML. Very informative.
Just a second question then, have you found that the low e glass you've come across has a manufacturer's marking that indicates the surface (1 - 4) the coating is applied to? It almost seems like a shot in the dark as to whether you can use scrapers or abrasives to remove adhesive areas where the labels were when new.
Thank you Johnlee. So if it is a hard drag, I should probably just assume that the coating is on that surface. So then if there is still an outline from the original new label, what is the best way to remove that without abrasives?
Here is the manufacturer stamp on mine. It gives the estimated R value. Solar control coating 75 and filled with inert gas. As it is solar control 75 I know it is on the outer pane, but based on cleaning I'm assuming it is on surface 2 as it doesn't feel any differently cleaning it than the others.
On the west side of my house I haven't replaced the glazing yet but this manufacturer used these stickers to indicate Low E S/G 178. As these have almost a copper tint to them for reflection purposes I've always treated them as though the coating is on the outside and they feel differently to clean. Every unit that has a low e coating should indicate it is on the glass, but unfortunately there is no requirement to indicate which surface from the manufacturer.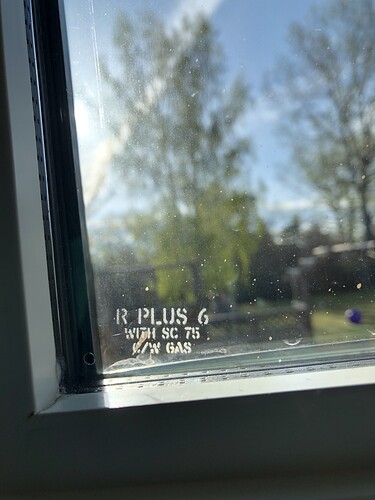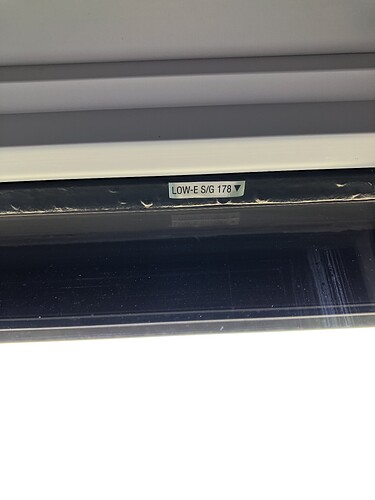 Edit note. Yes these windows are aweful The first ones spots are actually between the glazing for some reason on the middle pane. It is being replaced this year. Yes the streaks on the second are my fault. Was practicing pole work with the fliq pad. Apparently left a smear in the top corner. .
Thank you for the product reference Johnlee. I'll have to give it a try.
Hey Ryan thank you for the visual and decoding the manufacturer's label. Very helpful on what to look for. I appreciate the feedback.
I've been working more with a modified moerman fliq myself and I think I'm getting the knack of it. I really like the speed of scrub & squeegee work on hot windows.
Hi Guys
I'm in Australia and this is my first post.
I love following Luke and have learnt a lot from him
In Australia we have a Viridian Low E Glass and it's a thin metal covering on the inside of the glass, not the outside.
The manufacturers tell you not to use a squeegee at all but have you guys found that it is OK to use a squeegee if you are careful?
Thanks in advance
Warm regards
Alan Phillips
Clean Windows 4 You
Man sorry for the delay. @SteveO has more experience with low e glass. We don't have a ton of them here.
The ones I have cleaned …I've cleaned them like any other. And too be honest they have been fine. But that dosent mean its ok.
Hey Luke
Thanks so much for getting back to me. That's great to hear that you clean Low E Glass like any other. The customer has me freaked out, unnecessarily.
I actually turned the job down, it had so many complications, as well as the e glass. I hate to say 'no' to any job but it felt right this time
I'll take your advice to my next low e glass
Keep up the great work, I love your videos
Warm regards
Alan Phillips
Clean Windows 4 You
0417 219 613
Yeah. Id say if anything don't use a blade and if you use an abrasive, play it safe and use a magic eraser . Not steel wool. Just to be safe.
Me personally, I haven't had any issues. But id hate to be wrong and you run into some.
You can use a squeegee just don't use anything abrasive out of caution. No steel wool or razors. We just scrub them with out washer sleeve, squeegee and detail. Never any issues but if you get a construction clean with all low e glass just be ultra careful
Thanks very much SteveO, I appreciate it. What do you mean
"We just scrub them with out washer sleeve"
Thanks mate
Alan
Ok here it goes;
I'm on the east coast of Australia, Newcastle to be exact. I run into this glass every single day. It is not a tint, but rather a metallic coating fused to the glass in the factory. Viridian manufactures all of it, but it is very often rebadged once it hits the glazier's warehouses. It is absolutely horrible to work with, but it can be cleaned well and safely. Architects will spec it on new builds as it is the cheapest way to get the thermal and safety properties of double glazing or thicker panels. It is so prevalent here but builders and glaziers themselves DONT EVEN KNOW ABOUT IT. I see it installed around the wrong fricken way all the damn time, so that the coating is facing the external side. What the hell?!
Viridian has basically cornered the Australian market as it is the cheapest way to comply with building codes.
I've seen it make hot rooms hotter and cold rooms colder. I've seen it covered in a very particular type of mould attracted t this coating only, I've seen it scratched to hell by dogs, and the fingerprints that look like they've been removed are still there when viewed in the sun from the other side.
In short, its absolutely horrible stuff. If you go to viridian's website they have a ton of negative reviews, even from window cleaners…
How to clean it? They'll tell you to use clean water and vinegar, but thats total bull and won't make a scrap of difference.
Wash and squeegee very quickly and then hit with acetone, lots and lots of straight nail polish remover. Drench the glass with a spray bottle of the stuff and quickly wipe behind with a very clean microfibre, and then rewet and squeegee. When detailing don't press hard as towels can scratch it. Don't wear jewelry while cleaning as this can scratch, dont rub with your nail as that can scratch, dont clean with coloured solution as that can stain (yes, even the blue stuff).
Tell your customers not to stick blutack to it, and to not put sticky tape on it either, as the residue can stain. Tell your customer that even after you're removed the fingerprints and tiny spots of paint that you can't guarantee that it will be totally clear or not stained underneath. Tell your customer that the cloudiness and rainbow marks and the roller marks are from poor manufacturing standards. Tell your customer they have been screwed by their architect, but that you now know how to clean it as best as the glass' condition will allow…
And also charge quadruple what you normally would.
Rant over. Sorry guys.