Hey friends. It's been a while. I wanted to show of this cool thing I built. It's a stupid-simple window pane counting tool that I currently use for doing window pane counts and pricing jobs on-site. What do you think?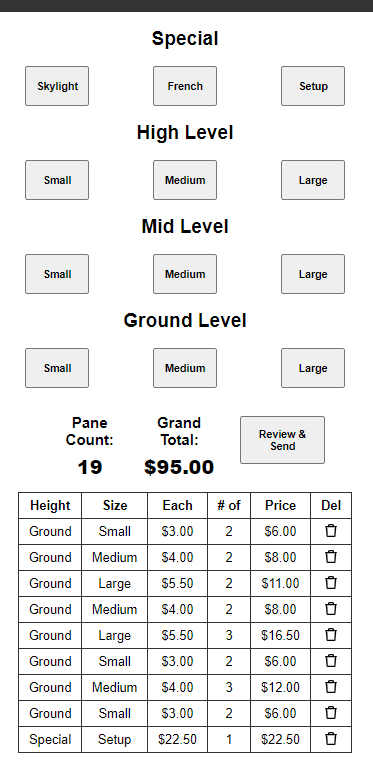 Keep in mind this is pre-alpha, but I'd eventually like to make this publicly available. Rest assured LTWC community members will get alpha access.


Current Features:
Tap the pane button for each pane of that type. The tap plays audio feedback to help you keep track of counted taps.
Creates a new line item for each new pane type counted. This groups together like-sized panes and allows for deleting small groups if you make a mistake or change your mind about the size/height/complexity of the panes you just counted.
Delete a line item and the count & grand total automatically adjusts.
There's an adjustable price sheet that allows you to customize the app to your desired pricing. Uses cookies to store pricing (keep in mind that this is device-specific).
If you'd like to play around with the pre-alpha version, let me know. I'll send you a link. I only ask that you agree to offer me some detailed feedback after using it a couple of times.
I'm currently working on the alpha build which will include some new features:
Create multiple price sheets to work from. Select the price list that applies to the kind of job you're building. Examples might include: Construction cleaning, residential, commercial, storefront, etc.
Creating a customer-facing quote at the end of your count.
Optional extras on the customer quote. Through the customer quote, customers would be able to click checkboxes for "optional extras" that you added during the quote. These optional extras would be jobs you noticed you COULD do, but weren't explicitly asked to quote for. Customers would get a live updated price to consider whether they'd like to add the service. Examples might be: exterior gutter cleaning, screen cleaning, roof moss removal, etc.
One-click service/contract agreement. Customers would view their quote, add extras they want, and one-click "agree to terms and conditions" of the service as-built.
Create a business-facing collection of data including number of panes of each type, for future use in future quotes.
If there's anything else you'd like to see me work into it, or if you have some feedback, I'm all ears. I'm hoping to have a working alpha by mid-summer, asking just $5/mo to get things started. I'd like to offer the alpha for free to the LTWC community

so stay tuned.